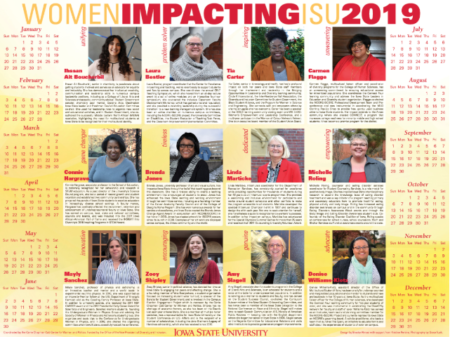 CTLT faculty member Dr. Connie Hargrave has been recognized in the 2019 Women Impacting ISU Calendar for her accomplishments at ISU, within Iowa, and across the nation. Initiated in 2007 by the Catt Associates student leadership organization and funded by Iowa State's Office of the Vice President for Diversity and Inclusion, the Women Impacting ISU calendar was developed as a tribute to current students, faculty and staff who distinguished themselves through their accomplishments at Iowa State University. Each year, 12 women from a wide variety of disciplines and diverse backgrounds are selected to appear on the calendar.
The 2019 calendar was officially unveiled during a reception recognizing the 12 honorees on Wednesday, Jan. 16, from 3:30 to 5 p.m. in the Sun Room of the Memorial Union.
The calendar includes the following description for Dr. Hargrave:
Connie Hargrave, associate professor in the School of Education, is nationally recognized for her scholarship and research in STEM education. As a past director of the university's Science Bound program, she led a period of record growth and student retention and established two community partnerships. She has prepared thousands of Iowa State students to excel as educators in increasingly diverse school settings. A faculty mentor, Hargrave has positively affected the recruitment, retention, and advancement of underrepresented faculty at Iowa State. She has served on campus, local, state, and national committees, councils and boards, and was inducted into the 2017 Iowa African-American Hall of Fame and received the INSIGHT Into Diversity's 2018 Inspiring Programs in STEM Award.